I also handcraft 1:24 scale mahogany models of first century Sea of Galilee Boats.  
These boats sell for $600 plus shipping and I have shipped to many buyers in Europe as well as the continental United States.  These models are excellent evangelism tools and make a fine addition to the holdings of any ship model collector.  Buyers have said: "the craftsmanship on this model is outstanding" and "we will be using this model for our evangelism outreach program."  
These models come with a wooden carrying case for protection during transport and this case can also be used for storage of the model.
To order please contact me at scott@semillerguitars.com or call (608) 757-2531.

____________________________________________________________________________________
In addition to completed models I also have kits available for anyone who would like to build one themselves.  These kits sell for $112 with shipping to the continental US via USPS Priority Mail included.
____________________________________________________________________________________
The model measures approximately 16" x 9" x 10" and is based upon plans taken directly from the Kinneret boat discovered in the 1980's.  This model's design won a Gold Award at the Midwest Model Ships competition and includes a linen sail which is shaped to look like it is holding wind.   There is also a net, four oars, two steering oars (quarterrudders), a hand woven basket, a stone anchor and two ballast bags.  All of the rigging rope is hand made from linen thread and the sheets (ropes attached to the bottom of the sail) are made from fine wire so that they can hold the bottom of the sail out from the mast so that the boat looks like it is sailing.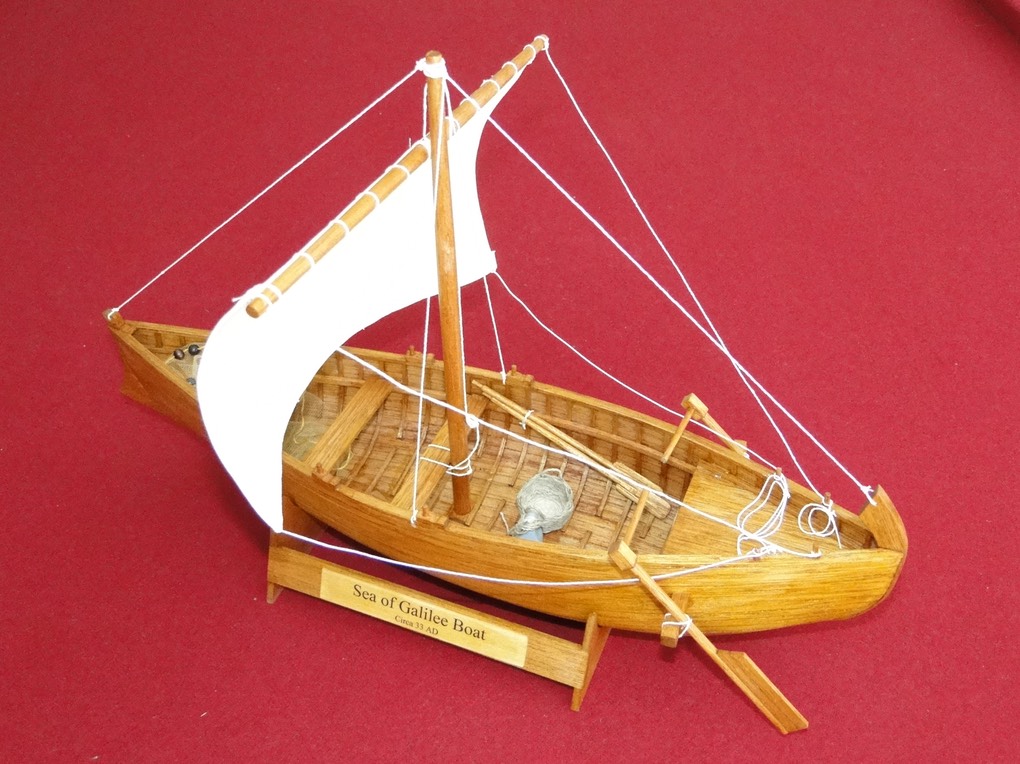 Prior to the discovery of the Kinneret boat, there was quite a bit of debate about the accuracy of several of the New Testament stories involving Jesus, his disciples and their use of boats on the Sea of Galilee.  In particular the story of Jesus calming the storm was questioned because of two details in the story.  The first was, "How could anyone sleep in an open boat in a storm that was so severe that it frightened veteran sailors?"  The discovery of the Kinneret boat surprised the world by showing that these boats had two decks which would make it possible to be shielded from the storm under them.  The second question is an interesting one, "Why would a fishing boat have pillows on it?"  It turns out that these boats carried ballast bags to adjust the trim of the boat.  These sand-filled bags are still commonly referred to as "pillows!"  Based upon these findings we can see that Jesus was asleep under one of the decks with his head on a ballast bag which he used for a pillow.
Details of the discovery of the Kinneret boat and more information can be found in the book, "The Sea of Galilee Boat, an Extraordinary 2000 Year Old Discovery" by Shelly Wachsmann.
I have also built larger scale boats for collectors and ministries.  These are lateen rigged to make them easier to ship.  Here are photos of these models, please contact me for pricing and delivery options.